International Labor Day is set on May 1st of the year. It is a national festival of more than 80 countries in the world anda festival for the workers all over the world.
On this day of commemorating and praising the working people, Guoji Industry launches a special column for the Labor Day. In this special column,some outstanding local employees of the overseas projects of Henan Guoji willbe introduced. They are the witnesses for Henan Guoji' s development, the goodemployees of Guoji as well as the bridge and link for friendship between Chinaand Africa. After years of hard work, they have made personal improvement,realizing growth together with the company. So many years have passed, here inGuoji, some of them have fulfilled great events in their lifetime, some haveachieved magnificent personal changes, and some have found new direction fortheir lives. Guoji sees the effort you have done. Guoji knows the contributionyou have made. Guoji will work together with you for a brighter future.
在這個紀念勞動、贊美勞動的日子里,國基實業特推出五一勞動節???,本次??袑榇蠹医榻B國基海外項目中的一些優秀當地員工代表,他們是國基發展的見證人、最美國基勞動者、中非友誼的橋梁與紐帶。他們經過多年的努力,在國基實現了個人的成長,與公司一同進步。這么多年過去了,有人在國基完成了人生大事,有人在國基實現了華麗轉身,有人在國基開啟了人生新的打開方式……你們的努力,國基看到;你們的付出,國基懂得;你們的未來,國基與你們一起實現。
Let's get to know these charming persons with the project development and Guoji' s Investment in Africa.
I'm the first local staff who did the market research for all theproducts with the first General Manager Mr. Sun. Due to my hard work I wasgiven a three month probation period. In 2005, I was given a letter ofemployment and I did all my best to get most of the local constructioncompanies like MINO, ICC, MODCOM, GLOBAL SERVICES which led to a high increasein sales. With such success and achievement I was promoted to the position of amarketing manager. Among many others. I was in charge of all the sale and themanagement of the staff at the marketing department. During this time, I won alots of awards from the management as one of the most outstanding staff.Collectively we were able to maintain the company as one of the best company,which convinced the management to choose four staff to China for study andmarket research which I was among. My management ability has played animportant role and contributed to the company's development to where it istoday with all the global crises.
當初我是第一個和首任項目總孫先生對塞拉利昂當地產品進行市場調查的員工。由于我工作中的努力,三個月的試用期結束后就轉正了。2005年,我收到了一份聘書,我盡自己最大的努力,和當地大多數的建筑公司實現了合作,比如Mino、Icc、Modcom、Global Services公司等,這些合作都給公司帶來了銷售額的大幅增長?;谶@些成績,我被提升為銷售經理。除了其他工作,我主要負責銷售部所有銷售員的管理。這期間,我作為最優秀的員工之一,得到了來自管理層的很多獎勵??偟膩碚f,通過我們的努力,公司一直是當地最好的公司之一。這一成績曾說服管理層挑選了四名當地員工到中國進行學習和考察,我就是其中之一。在全球危機中,公司能夠走到今天,我的管理能力也起到了很大的作用。
On several occasions, most of the companies above decided to do businesswith other companies due to some reasons, as result of my timely intervention,we were able to take the clients back to the company which led to a massivesales within that particular period.
曾經,由于某些原因,上述已經合作的部分公司決定中斷與我司的合作,但是由于我的及時干預,最終又把客戶挽留了下來,這對公司在特定時期內的銷售額的穩定提供了保障。
From those years working in the company, I got married and learned a lotabout myself, even my life. I became much stronger to a point of owning afootball club and thanks to the company, I got further education which made memore qualified to challenge the difficulties appearing in my work and life.
In future, I will work hard to manage my own team to contribute what Ican do to the company.
在公司的這些年里,我結了婚,個人和生活方面也有了很大的提升。我變得越來越強大,建立了自己的足球俱樂部。幸虧有公司,我得到了進一步的教育,使我更有資格面對出現在我的工作和生活中的困難。
今后,我會努力管理好自己的團隊,為公司貢獻自己的力量。
FFH-Henan Guoji Development Co.,Ltd.
FFH-河南國基發展有限公司
Name姓名:
Vasco Mimozo Joaquim Mandlhate
瓦斯科·米莫佐·若阿金·曼德拉特
Age年齡:32
Employment Date入職時間:26.09.2011
崗位Position:
Administrative and Public Relations Responsible 行政和公共關系負責人
Hobbies愛好:
Music and Football音樂和足球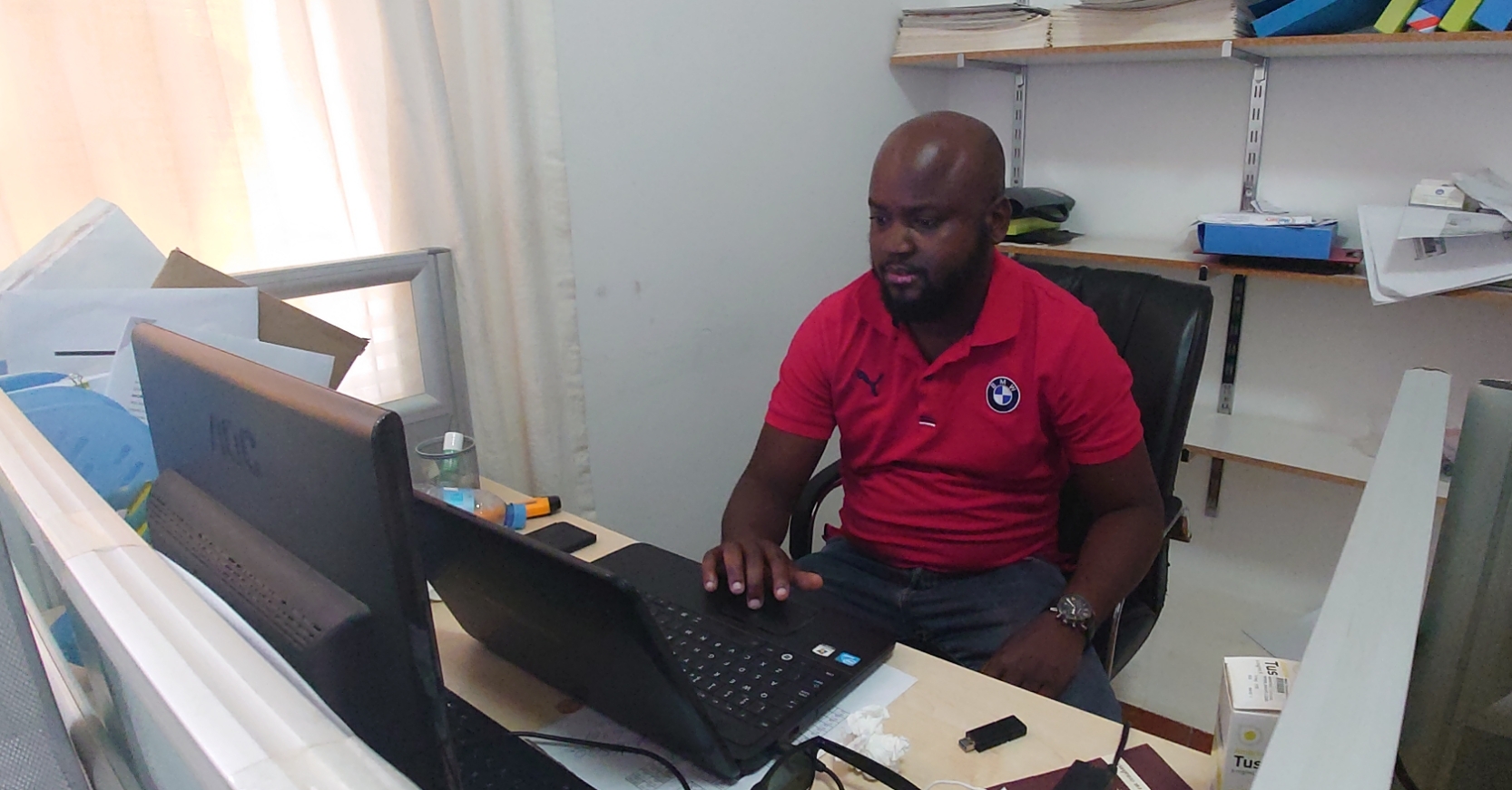 Personal Experience and Feelings:
個人經歷及感悟:
The first example of success is that before I started working for thecompany I didn't have my own house but thanks to this job I have bult my ownhouse now.
The second is that with my salary I have bought my car and I can pay myhouse bills and provide well being to my family.
Due to the fact that I work in Administration and public relationdepartment which mostly consists of dealing with documents in general. Tofacilitate ny work,now I'm studying law, which in future can help me do my job better thanbefore,evenhelp me to become a lawyer.
As for my personal improvement is that my skills of writing and speakingin English are better now, since in the office English is our main languagewhen communicating with our Chinese colleagues.
加入公司之前,我沒有自己的房子,幸好有了這份工作,我現在已經有了自己的房子。我用我的工資買了車,并有能力支付我的房子的賬單,為我的家庭提供好的生活。
我在行政和公共關系部門工作,主要任務是處理文件。為了更好的應對工作,現在我正在學習法律,這將有助于我今后更好地完成我的工作,甚至能幫助我成為一名律師。
至于我個人的進步,我現在的英語寫作和口語能力都得到了提高。在辦公室里,英語是我們與中國同事交流的主要語言。
What I feel about working in Guoji is that my job is allows me know getto know other people, environments that can benefit me in my future. I alsofeel that the company is my home and feel comfortable working here because ithas been 10 years long.
Working in the biggest housing project in the country has been a great privilege not because offinancial benefits but also it boosts my career as a professional in my workingarea.
I love the fact that I working in a company where I can interact withpeople of different backgrounds and from that I can learn more about thosepeople"s habits and cultures.
我在國基工作的感受是:我的工作更多的讓我了解其他人,了解未來對我有利的環境。我也覺得公司是我的家,在這里工作很舒服,我已經在公司工作10年了。
在這個國家最大的住房項目上工作是一種莫大的榮幸,不是因為經濟收益,而是因為它促進了我職業生涯的發展。
我在公司的工作使我可以與不同背景的人交流,從中我可以更多地了解這些人的習慣和文化,對此我表示很滿意。
ZDA-Henan Guoji Development Co., Ltd.
ZDA-河南國基發展有限公司
Name姓名:
Julian de beer朱利安 · 德 · 比爾
Age年齡:37
Employment Date入職時間:1.10.20
Position崗位:
General Manager總經理
Hobbies愛好:
Outdoors, Adventures戶外活動和探險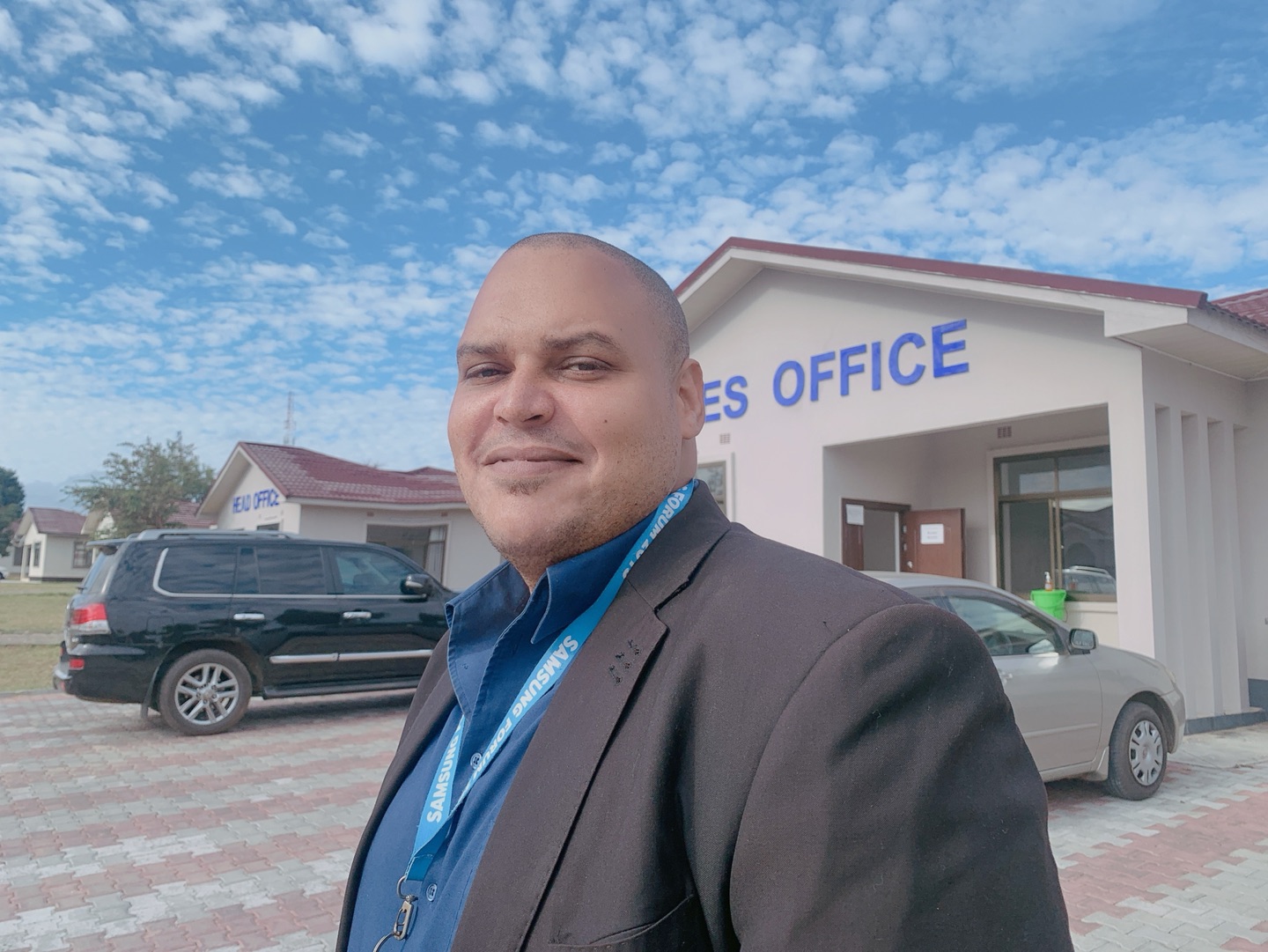 Personal Experience and Feelings:
個人經歷及感悟:
I'm Julian de beer and have been a business and Operations Manager for 10years, I specialize in analysing, restructuring and implanting strategies,Sales, logistics and employee training.
I'veworkedinmultipleMulti-Cultural Companies of the years, I havealso learned a lot from these companies, I enjoy the outdoors, fishing campingand Game drives.
I was Educated international, I have lived and worked in many differentcompanies.
我是朱利安·德·比爾,已經做了10年的業務和運營經理,我擅長策略制定、銷售、后勤和員工培訓。
多年來我曾在多家多元文化公司工作,我也從這些公司學到了很多東西,我喜歡戶外活動、釣魚、野營和賽車。
我受過國際教育,曾在許多公司工作和生活過。
My Success is intertwined with the Core Values of the Company.
Company's Success: - Improving and driving Goals set on a project.Personal Success: - Achieving the set Goals of the company and My ownManagement goals for succeeding, our Success is intertwined with the Companies Success.
Instilling Project expectations well implementing a work and performancestructure to guide all workers on what need to be achieved, why its need to beachieved and how we can achieve it.
Progress on Sales as this is one of the core areas of the Project, bytraining the staff on sales technics, identifying customer market and theproducts wanted, the benefits of the product matched to the client's needs. Artof Sales.
My Core Style of management is never changing, my skills change accordingto circumstance, no 2 employees are the same just as no 2 companies are thesame. As the business Manager, I start from the foundation work of the company, set my end goal and work hard to these Goals.
我的成功與公司的核心價值觀密不可分。
公司層面來說,我取得的成功是改善并推動了項目目標的制定。個人層面,我實現了公司為我設置的既定目標和我自己設置的管理目標,我的成功與公司的成功不可分割。
員工管理方面,我向所有員工傳達項目目標,通過合理安排工作和績效考核,指導他們如何實現目標。
銷售把控是項目的核心領域之一,通過對員工進行銷售技巧培訓,確定客戶市場和所需產品,使產品效益符合客戶需求。
我的核心管理風格是永不改變的,我的技能隨環境而變化,沒有哪兩個員工是完全一樣的,就像沒有哪兩家公司是完全一樣的。作為業務經理,我從公司的基層開始做起,確定自己的最終目標,并圍繞這些目標不斷努力。
Personal Improvement: Understanding the importance of a 5,10,20-yearplan, the future is never too far, so be pro-active with life as you are withwork, find the balance to manage myself as I do others, we tend to overlookself-awareness when managing others, I must demand more of myself in allaspects.
Working:The environment isdemanding, requires hard work and focus which I enjoy, as I have always thrivedunder pressure and deadlines, I love the challenges, my work is exciting, thesupport from the company and MD is phenomenal, Guoji being a Multi-Cultural hassurprised me and I'm excited to be part on the Company.
個人提升:我認識到5年、10年、20年計劃的重要性,未來永遠不會太遠,所以要像對待工作一樣積極對待生活,像對待別人一樣找到管理自己的平衡點,我們在管理別人時往往忽視自我意識,我必須在各個方面對自己提出更高的要求。
工作感受:工作氛圍很好,公司要求大家在工作中努力和專注,我很喜歡這一點。因為我總是在壓力和緊迫下才能成長,我喜歡挑戰,我的工作令我興奮,來自公司和總經理的支持也很有力,國基的多元文化讓我驚訝,我很高興能加入公司。
MHC-Henan Guoji Development Co., Ltd.
MHC-河南國基發展有限公司
Name姓名: Chikondi Thora Kapote
史孔迪 托拉 卡普特
Age年齡:26
Gender性別:Female女
Employment Date入職時間:17.08.2020
Position崗位:Sales Representative銷售員
Hobbies愛好:
Drawing Illustrating Writing畫畫和寫作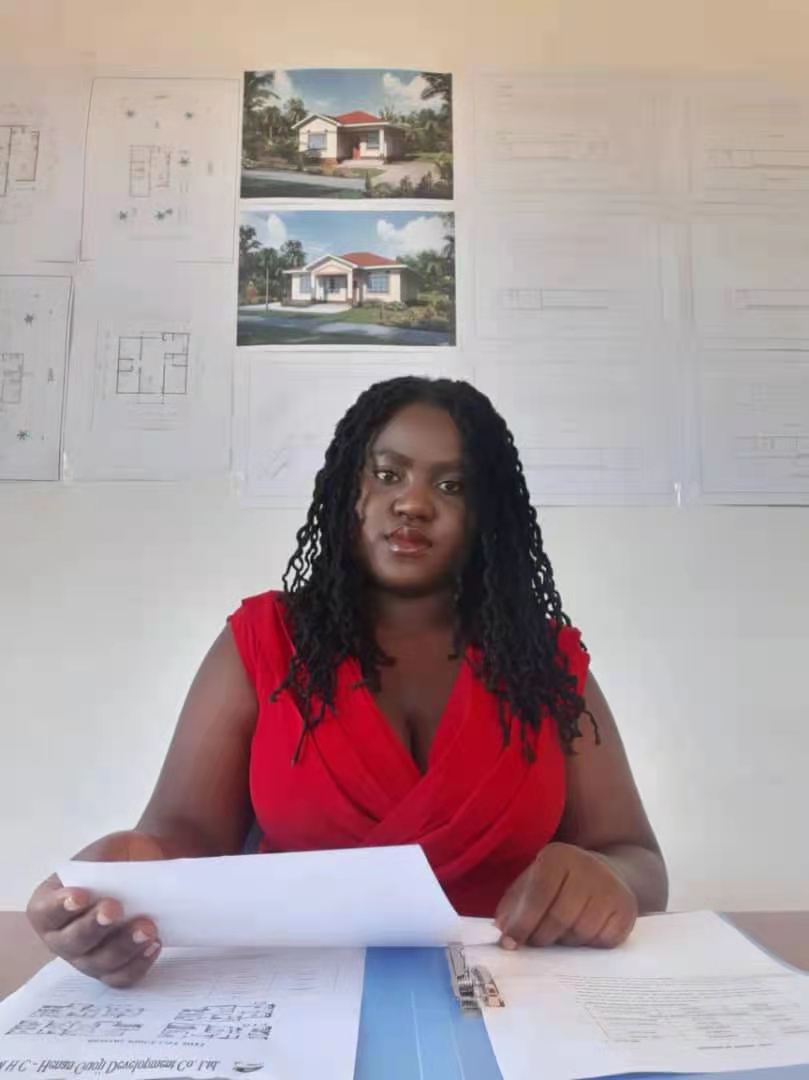 Personal Experience and Feelings:
個人經歷及感悟:
During my eight and a half months at Guoji, I'vebeen able to sell ten properties and have several other sales that are pading.
I have been able to adequately reach to multitudeof potential clients in Malawi and across the world with my traditional andonline marketing initiatives. Effectively spreading the message for the Guojibrand widely.
加入國基的8個半月里,我已經賣了10套房子,還有幾套正在洽談中。
借助我的傳統和在線營銷方式,我已經能夠充分接觸馬拉維及其他國家的眾多潛在客戶,有效地傳播國基品牌信息。
During my time at Guoji, I' ve been able to increasemy networks substantially and my skills as a marketer have markedly improved. Iunderstand the real estate business much better and only upward mobility/growth can come as a result.
在國基任職期間,我的人際關系網得到了很大的擴展,營銷技巧也有了很大的提高。我更了解房地產業務,并得到發展和成長。
Guoji Group Co.,(U) Ltd.
國基集團(烏干達)有限公司
Name姓名:
KISEMBE KENNETH
柯塞姆比*凱內斯
Age年齡:31
Employment Date
入職時間:05.01.2017
Position崗位:
ADMIN/HR MANAGER
行政/人事經理
Hobbies愛好:
Listening to music & Reading
聽音樂和讀書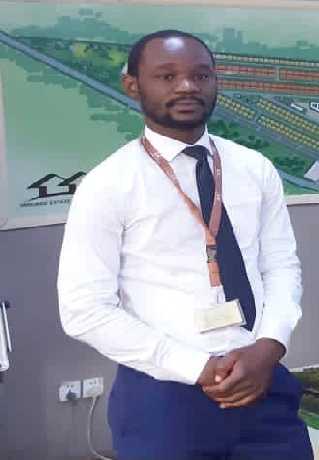 Personal Experience and Feelings:
個人經歷及感悟:
Successful organizing of MOU signing with Housing Finance bank, CentenaryBank and Buganda Land Board (2021 January & February respectively) and alsothe signing of MOU between Guoji and Buganda Land Board for the Sentema project(2018 December).
Case in point was the MOU singing in December 2018, I was tasked withcoordinating and organizing this event. Yes, it was a challenge for sure, itwas my first time of being at the forefront of organizing such an event, bythen Mr. Don was the administration manager and I was his assistant. He left mewith orders but I had to figure out how to execute the assignment. Long storyshort I approached my M.D (Madam Windy) for some one or two tips which I builtupon to efficiently plan and execute the assignment. Upon building on what theM.D had shared with me I got to work coordinated with different suppliers forthe materials that I need i.e table flags, the national flag of the republic ofChina etc. internally directly coordinated with the finance manager and the M.Dit was necessary and at the end of the day the function was successful.
I remember on this assignment the M.D sat me down and told me that "Mr.Kenneth, I know this is your first function to organize but I hope you can tryyour best and make this event a great success." I guess you can feel thepressure that I was under but with the good guidance mission was successfullyexecuted and deep inside it pleased and it was the beginning of a knew dawn.
我成功的組織了與住房金融銀行、Centenary銀行和布干達土地委員會諒解備忘錄的簽署(時間分別為2021年1月和2月),還組織了國基與布干達土地委員會就森特馬項目的諒解備忘錄的簽署(2018年12月)。
以2018年12月的《諒解備忘錄》簽署為例,我的任務是協調和組織這次活動。這確實是一個挑戰,這是我第一次負責組織這樣的活動,當時Don先生是行政經理,我是他的助理。接到他的指示后,我就開始想辦法執行任務。長話短說,我找到我們總經理(Windy女士),向她征詢了一些建議,以方便有效地計劃和執行該任務?;诳偨浝斫o出的建議,我開始與不同的供應商協調我需要的各種物料,如桌旗、中國的國旗等。在公司內部,必要時,我直接協調財務經理和總經理,經過一天的努力,雙方成功的簽署了備忘錄。
我記得此次任務執行過程中,總經理對我說:"凱尼斯先生,我知道這是你第一次組織這樣的活動,但我希望你能夠認真準備,全力以赴,確保此次簽約儀式成功?!蔽蚁肽憧梢愿惺艿轿宜惺艿膲毫?,但在良好的指導下,我成功地完成了這個任務,我內心深處感到很高興,這將是一個新的開端。
Successful recruitment and training of new interns whose performances havebeen exceptional over the period they have worked with the company. November2019, I led a team of four members, the assignment was to create s link betweenGuoji Group Company (U) Limited and Makerere University Business school,Faculty of Commerce, Department of Finance targeting students pursuingbachelors of Real Estate Business Management. I being the representative of thecompany the main object was to give a recruitment lecture to finalist studentsas we shared what the real estate sector was all about in reality and whatpackages as a company we had to offer. In discussion with the head of aDepartment, we showcased our good intentions as a company for creatingemployment opportunities for these fresh young graduates. This mutualunderstanding has so far so good yielded good results and as we speak some ofthe best performing consultants in the marketing departments are as a result ofthis initiative.
Successful annual renewal of our Chinese staff works permit visas that Ihave been personally handling from 2019 to date.
我成功的招聘和培訓了新實習生,他們在公司工作期間的表現非常出色。2019年11月,我帶領由四名成員組成的團隊,代表國基集團(烏干達)有限公司與馬凱雷雷大學商學院、商務學院、財政部門建立了聯系,招聘有房地產企業管理學士學位的學生。我作為公司的代表,主要任務是給最終確定的學生們做一個招聘講座,我們分享了房地產行業的實際情況以及作為一家公司,我們必須提供的產品類型。在討論過程中,我們表達了作為一家公司,我們想為這些應屆青年畢業生創造就業機會的良好意向。這種相互理解已經取得了良好的成果,正如我們所說的,營銷部門中一些表現最好的置業顧問正是此次招聘過來的。
此外,自2019年起,我開始負責為中方員工續簽工作許可和簽證,目前進展順利。
Having joined Guoji there has been a number of personal improvements thatI have achieved;
Coordination of work with different departments: Overtime I have improvedon my work coordination skills not limited to the various departments withinthe company but also the various service providers that I laisse with whenproducing some company requirements
Problem analysis: I have improved my problem analysis skills withencounters that I have faced bit with fellow employees or clients. The power toidentify the source of the problem and being able to find a solution to it inan amicable way is something a pride in.
Improved effectiveness: The ability to actively participate in variouscompany activities has greatly positively influenced my effectiveness as over theyears I have developed a sense of ownership and that explains why personseffectiveness is highly determined by their sense of ownership then otherfactors come in play.
The Country manager creates a platform with an open flow of informationand room for decision making power, which has greatly helped me on my owndecisions and made me accountable for both positive and negative out comes.This contributes an improved transparency and accountability
From my honest opinion, working with Guoji has, is and will always be thebest experience for reasons best explained by how the company has nolimitations for ones growth in position and personal growth.
Guoji has created and designed various avenues for all employees toexplore their dreams and the only stumbling block is on individual basis toeither take advantage of the opportunity the company has provided or throw itaway.
In conclusion, I have personally grown within the company and stillgrowing and am grateful for the opportunity of working with this company.
加入國基后,我個人取得了一些進步,包括以下方面:
與其他部門的工作協調:隨著時間推移,我的工作協調能力得到提升,不單是公司內部各個 部門之間的協調,還包括與公司有業務關聯的合作伙伴之間的協調。
問題分析:在面對同事或客戶時,我的問題分析能力得到提升。具備識別問題根源的能力和找到友好的解決問題的辦法的能力,是我值得驕傲的事情。
工作效率得到改善:積極參與公司各項活動使我的工作效率得到了很大的提升,多年來我培養了一種主人翁意識,這就解釋了為什么一個人的工作效率在很大程度上取決于他們的主人翁意識,其次才是其他因素。
同時,區域經理創建了擁有開放的信息流和決策權空間的平臺,這個平臺可以幫助我做出自己的決策,并對相關結果負責,這提高了工作的透明度,并強化了問責制。
我真心認為,與國基共事,在我的過去、現在和將來都是最好的經歷,因為公司對所有員工的職位提升和個人成長沒有任何限制。
國基已經為所有員工創造和設計了各種探索夢想的途徑,現在就取決于你是利用公司提供的機會還是放棄這個機會。
總之,我個人在公司里得到了成長,而且還在繼續成長,我很感激能有機會和這家公司一起工作。
Project in Cote d'Ivoire
科特迪瓦項目
Name姓名:

KONAN KOUADIO JEAN N'DRI STEPHANE 柯南·庫瓦迪奧·讓·史蒂芬
Age年齡: 38
Employment Date入職時間:24.06.2020
Position崗位:Translator/Administrator
翻譯管理人員
Hobbies愛好:traveling, music, reading, and movies
旅行,音樂,閱讀,電影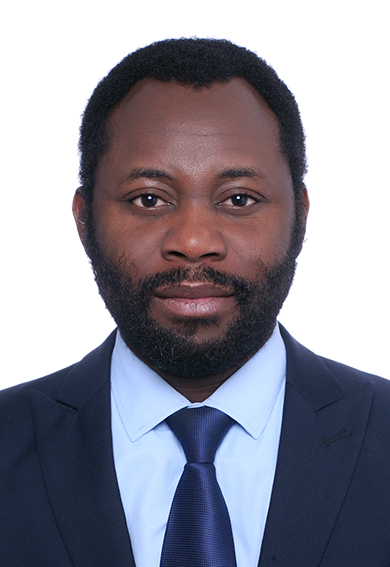 Personal Experience and Feelings:
個人經歷及感悟:
Personalprofile: PhD candidate student in Public / Private Business Administration,Management and also Engineer Marketing communication.
Ihave more than seven years of experience in the Administration and Managementof Public / Private companies and offering great expertise with complex audits,analysis of special needs and drafting of technical reports. I have anentrepreneurial spirit and a team player recognized for my pragmatic approachand my innovative ideas.
Today,I put at the disposal of HENAN GUOJI INDUSTRY, my professional experience, mycourage, my honesty, to achieve with the group the assigned objectives and tooccupy a leadership position in my environment.
簡介:公共/私人企業管理,管理以及工程師營銷傳播專業,博士研究生在讀。
我在公共/私人企業行政管理方面擁有7年以上的經驗,在復雜的審計事務、企業特殊需求分析以及技術報告撰寫方面具備很強的個人能力以及豐富的專業知識。我具備創業者精神、團隊合作精神,這些都使我非常推崇務實的工作態度,并且可以激發我的創新思維。
現在,我將自己的專業技能、工作經驗,以及我奮勇拼搏和誠實的品質獻給河南國基實業,與整個團隊一起去完成既定的目標,并在這個過程中積累我的領導力經驗,成為一名團隊領導人。
Ibelieve I have contributed a lot to obtaining good results since I joined theGUOJI GROUP COTE D'IVOIRE team as a translator and interpreter on Jun 24, 2020.I love helping to resolve and to manage the situations during our business,going through research and communication, and contribute to the company what Ican do.
For example, when the customer were requesting the projects planning weare doing, our team had difficulty deciding and making decisions. Rather thanarguing with the clients because of our lack of construction delay, I managedto talk to all the directors and convince them to give us more time to showthem again our acknowledges in the field of buildings construction to obtainthe client's understanding and trust.
During going through our business project in building decoration, wealso get good management, with good relationship with the customer. So we haveto deal with communicating with the customer to be confident on us and acceptour products because of they are good quality.
According to me andthe director of Guoji group C?te d'Ivoire, we are now very confident inmanaging business in C?te d'Ivoire and we will get success in allprojects.
自2020年6月24日加入國基集團科特迪瓦團隊以來,我一直擔任翻譯工作,我非常享受在工作中分析、溝通、并解決遇到問題的過程,并通過我的努力為公司奉獻一份力量。
在工作中,當客戶對我們的項目規劃和工期提出要求時,我們的團隊不抱怨、不拖延,而是第一時間與各監工負責人溝通,從而向工程上爭取更多的時間,向客戶展示我們在建筑方面的專業能力,以此說服客戶,取得他們的理解和信任。
裝修工作也是如此,通過充分的溝通與客戶建立良好的關系,使得客戶信任來自中國的高質量產品,信任國基這個品牌。
我和我們的團隊有信心做好國基在科特迪瓦的項目,有信心取得更好的成績,我們也將會為此持續努力。
These people are just part of our outstanding local employees. At thismoment, they are still working right on the project like all other local staff,fighting for a better future for themselves and for the company.
這些人只是我們眾多優秀外籍員工中的一小部分,此時此刻,他們和所有的外籍員工一樣,仍奮戰在一線,為自己,為公司,為更好的明天!